Blackjack Tips & Tricks You Should Be Using!
Blackjack is one of the most well-known card games around, we've put together some blackjack tips for the next time you play! Whether you're playing offline, online, at Slotastic or another online casino entirely, these tips will give you an edge over the house next time you play your hand.
Just like any other casino game with high stakes, Blackjack requires the use of numerous strategies in order to dominate the game and emerge as the winner. The strategies you use to win over the other players or the house should be as bold and adventurous as the game itself - adding excitement and thrill to the game. Blackjack requires your engagement at all times, and a lot of people believe that being adventurous and bold means throwing the caution. However, it is important to stay confident and rise to the challenge when playing Blackjack, this is the edge you have over other players and the house.



GET STARTED WITH THIS SIMPLE BLACKJACK CHART
This reliable chart is ideal for all Blackjack players of all levels, from beginner to intermediate. With this chart, it gives you a guide of which action is appropriate based on the current scenario. Use or save this chart to dominate your next Blackjack game!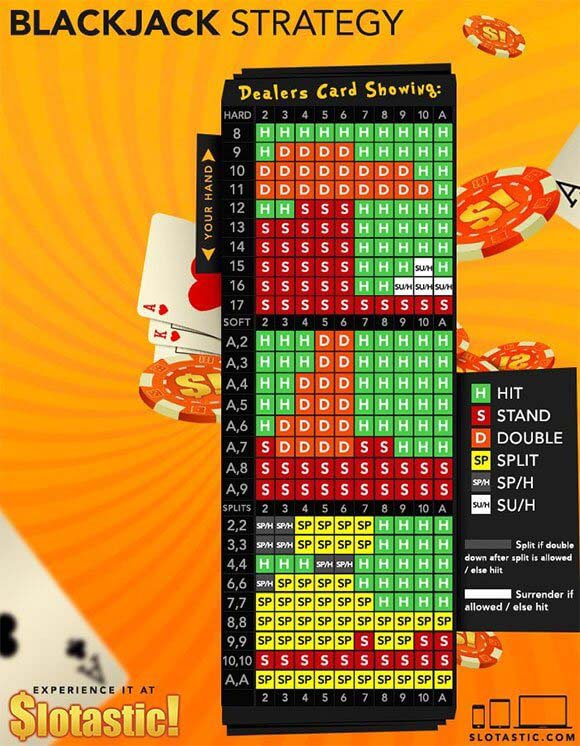 Please Note: If you apply this strategy it is at your own risk, Slotastic cannot be held responsible for any errors when applying this strategy. The team at Slotastic wish you the best of luck when playing Blackjack!
BLACKJACK GLOSSARY
Doubling Down = After receiving your first two cards, you have the option to make a second wager of your original bet amount and receive only one additional card from the dealer.
Early Surrender = You can surrender your hand and forfeit half of your original bet, this can be done only before the dealer checks if they have a blackjack.
Hand = The cards that you are dealt from the dealer to you and the cards that are dealt to the dealer.
Hit = Draw another card.
Insurance = A bet that can be made on the side that the dealer has blackjack. You can make an insurance bet when the dealer's upcard is an ace. You win if the dealer has a blackjack, this will be paid at 2-1.
Natural = Another term for blackjack.
Paint = Any picture card.
Push = A player's final hand with the same total as the dealer's final hand. This is a 'tie', so the chips wagered on this hand stay where they are.
Stand = Keep your hand as it is.
Upcard = The card shown in the dealer's initial two-card hand that is dealt face up.
Think you've now got what it takes to challenge the house? Play Blackjack at Slotatic for fun money or real money today and put your newly discovered blackjack tips to the test!
PLAY NOW