Online Poker Tips To Get You Started
Slotastic might be the leader in fun online slots, but that's not stopping us from offering a full range of casino games to keep you entertained! Experience the thrill of poker in your own home with online poker at Slotastic (the most fun online casino).
We've put together a quick guide to take you from a rookie to a skilled poker player in no time! Whether you're playing for small or large stakes online poker is a fun and entertaining casino game that can be frustrating but also very rewarding. At first it can take a short time to understand the game and rules, however once you start to understand the game it can become enjoyable and profitable.



UNDERSTANDING POKER HANDS
Before you start throwing your chips on the table, it's important to know the winning poker hands! At the start of the poker game every player will be dealt two cards, it's extremely important that you don't reveal these cards to your opponents. During the game five more cards will be dealt to the center of the table, combine these five cards with your two cards to try and make the best 5-card poker hand.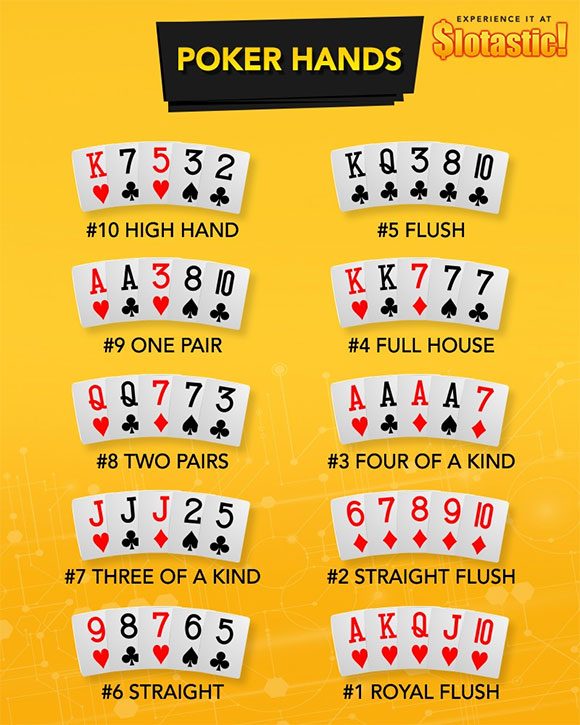 ONLINE POKER AT SLOTASTIC!
Think you're ready to take the tables? If you're still not 100% confident with your poker skills, you can always play for fun money until you feel ready to play for real. With over 5 different variety of online poker at Slotastic, including Texas Hold 'Em, Jacks or Better, Joker Poker and All American Poker, there are plenty of chances for you to try your new poker strategy and find the game that suits you!

Pull up a chair at the table today, stack your chips and get ready to unravel hours of thrills with this fun and skilled casino game!
PLAY NOW