Slotastic Celebrates 10 Years Online!
2019 is a massive year for online gaming, but it's an even bigger year for Slotastic Online Casino who is celebrating a huge milestone - 10 years online!
We've had players that have stuck with us since the very beginning and thousands who have joined us along the way, and we're thankful for every single one! After teaming up with Realtime Gaming (our slots provider), we launched our bright orange website in 2009 and started opening up our registrations for customers. In the beginning, players could only download the casino to their PC to play our games. We now have several possibilities, including our Android App, Instant Play, and Mobile Casino, oh how times are changing.
10 WEEKS OF BIRTHDAY FUN
It's not every day an online casino is celebrating its 10th anniversary, and we're proud to be one of few casinos to make it to this huge milestone. To celebrate our 10th anniversary, we've spent the last few months working on an exciting campaign to allow our players to participate  in the fun. Starting August 5th, 2019, we're giving players 10 weeks of even more fun than usual. We've created ten exciting mini-games for players to play to earn bonus prizes, each week a new game will be unlocked on the campaign page. 

All players (new and existing) will be able to take part, the campaign will run from August 5th 2019, and all promotions will be available until August 2020.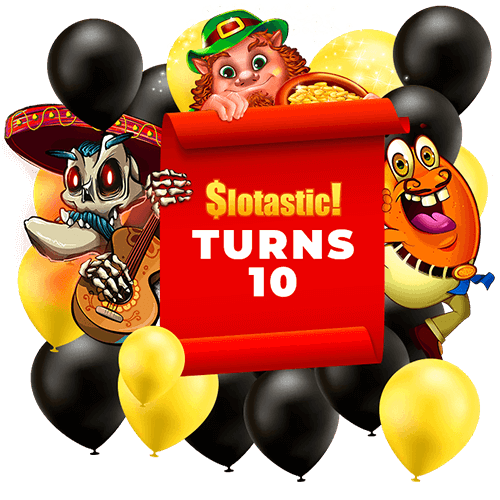 10 MORE YEARS OF THE MOST FUNTASTIC ONLINE CASINO
We're not stopping here! After ten years online, we've already learned so much, and we're ready to make your Slotastic experience even better for the next ten years to come. Our excellent team of Slotastic experts are working on more exciting features, new games and loads more! You'll soon be able to access tournaments on Instant Play and Mobile, and a new live dealer feature will be released, tonnes of new games, and loads more!

For now, we'd like to say a big THANK YOU to all of our players. Thank you for choosing Slotastic as your chosen online casino! We're looking forward to the next ten years of fun...
PLAY NOW