In the first of its kind, the Banana Jones Board Game becomes the first snakes and ladders inspired game to hit Slotastic's ever-expanding casino games collection. This exciting board game drops players into the very heart of the jungle as they take on the action-packed role of explorer and treasure hunter Banana Jones - a small but mighty purple monkey geared up for its dangerous mission.

Begin your journey at the beginning of the jungle and carefully travel through each stepping stone to reach the final step and enter the secret temple. You'll come across boosters along the way to help you advance further towards the temple, but keep an eye out for those sneaky snakes or they'll send Banana Jones back a few steps.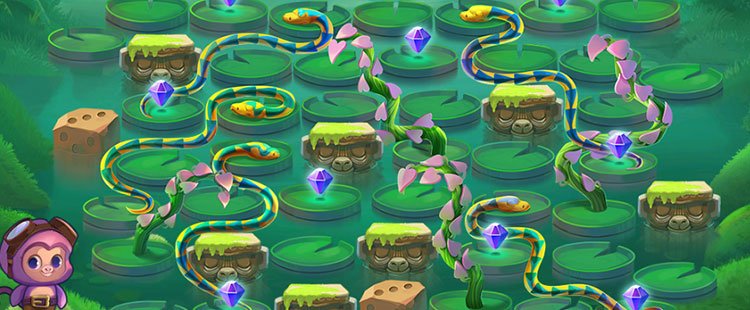 HOW TO PLAY BANANA JONES GAME?
Just like traditional snakes and ladders, Banana Jones rules are very similar with only a few small differences. You'll play as Banana Jones and begin your quest and the bottom left stepping stone. To move Banana Jones towards the temple you'll need to roll the dice, whichever number appears on your dice is the number of steps you'll move.

To begin with you will have 5 dice rolls to make it to the temple, if you land on the stepping stones with a dice symbol this will grant you one extra roll. The long vines act as ladders and will advance you forward, whereas the snakes will move you further back.
BANANA JONES FEATURES
If you've defeated the snakes and made it to the last stepping stone, you will unlock the Crystal Banana Quest Feature. During this feature Banana Jones moves inside the temple and is faced with 16 closed treasure chests, each containing fruit colored crystals. Each colored crystal has a different prize multiplier, with the golden bananas holding the highest value. Open one treasure chest at a time until the crystal fruit is revealed, whichever set of crystals you find first will be the prize awarded.

Go bananas for Banana Jones and experience this fun game at Slotastic today!
PLAY NOW