Freeze!! You've gone from an upholding citizen to a wanted fugitive overnight, the warrant has arrived and we hope you're ready to escape the reels in the Cash Bandits Slot! This cops and robbers inspired slot will have you seeing dollar signs every time you play because there are some serious bucks up for grabs with Realtime Gaming's (RTG Slots) 5-reel crime-fighting Cash Bandits Slot.

There's no correct side of the law in this crime-themed slot - play as a skilled and risk-taking bandit and reap stacks of cash, dodging the coppers down side streets. How much loot can you get away with?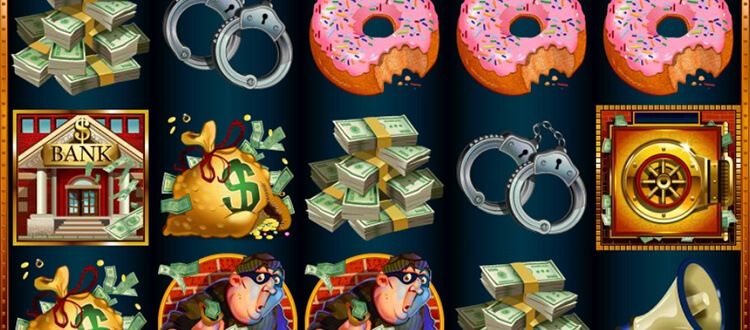 TAKE THE MONEY AND RUN, IT'S THE CASH BANDITS SLOT
The chase never has to end, play Cash Bandits on the mobile casino on your smartphone or tablet device. With fantastic sound effects, you'll immerse yourself into what feels like a real-life cops and robbers chase, listen out for those loud sirens and dodge those blue and red flashing lights or you'll leave empty handed.

Launched in 2015, Cash Bandits has been paying big bounties ever since, with over 10 big winners during its release week. If you like the Cash Bandits Slot, make sure to check out the sequel Cash Bandits 2.


CAN YOU CRACK THE CASH BANDITS SLOT VAULT?
Like any real crime movie, this slot game wouldn't be complete without a large vault with endless opportunity behind the vault door. The biggest steal is hiding behind vault number 1, unlock the Vault Feature and win up to 90 free games at x12. Within the Vault Feature, there is 4 vaults and a traditional keypad to help you crack the code. Each vault requires a random 1, 2, 3 or 4 digit code to open it.
PLAY NOW