Welcome to the world of the Fortunes of Olympus Slot, a thrilling online slot game that takes you on a journey to the heights of Mount Olympus, home to the gods and goddesses of Greek mythology. In this game, you'll experience the power and majesty of the divine beings as you spin the reels and seek your fortune.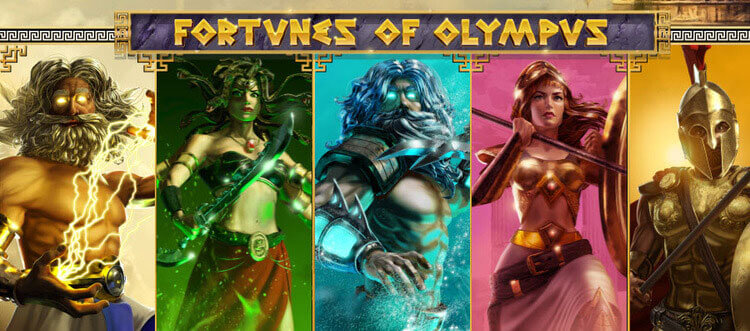 Become a Greek God in the Fortunes of Olympus Slot!
The story of Fortunes of Olympus begins with Zeus, king of the gods, who has summoned you to his court on Mount Olympus. He has a mission for you: to help him and the other gods of Olympus restore order to the realm, which has been thrown into chaos by the mischievous trickster god, Hermes.
As you embark on this quest, you'll encounter many of the most famous figures of Greek mythology, including Athena, Apollo, Hades, and Poseidon. Each god has their own unique power, which can help you on your journey to win big.
The game features five reels and 25 paylines, with stunning graphics and animations that bring the world of ancient Greece to life. The symbols on the reels include the gods and goddesses themselves, as well as other iconic images from Greek mythology, such as the Pegasus, the Minotaur, and the Gorgon Medusa.

If you're looking for more fun in the theme of Greek mythology, check out Achilles Deluxe, Khrysos Gold, and Nine Realms.
Fortunes of Olympus Slot Features
One of the most exciting features of Fortunes of Olympus is the bonus game, which is triggered when you land three or more scatter symbols on the reels. In this game, you'll get to play one of three different mini-games, each of which offers its own unique rewards. These include shifting reels, extra wilds or win multipliers.
Another exciting feature of the game is the wild symbol. When this symbol appears on the reels, it can substitute for any other symbol to create winning combinations.
But that's not all - the Fortunes of Olympus Slot also offers a 'Buy Feature' where players can choose to purchase the feature without having to unlock it during regular gameplay. This exciting feature can be unlocked for as little as $18.

Whether you're a fan of Greek mythology or simply looking for a thrilling online slot game, Fortunes of Olympus is sure to deliver. With its engaging story, stunning graphics, and exciting features, this game is sure to become a favorite among casino players everywhere. So what are you waiting for? Join Zeus and the other gods of Olympus on this epic quest and see if you have what it takes to become one of the gods!
PLAY NOW