Ignite your winnings with the Icy Hot Multi-Game Slot at Slotastic! Looking for a sizzling new slot experience that will keep you on the edge of your seat? Look no further than Icy Hot Multi-Game. With its unique blend of fire and ice, this 10-payline slot game promises double the fun and the excitement.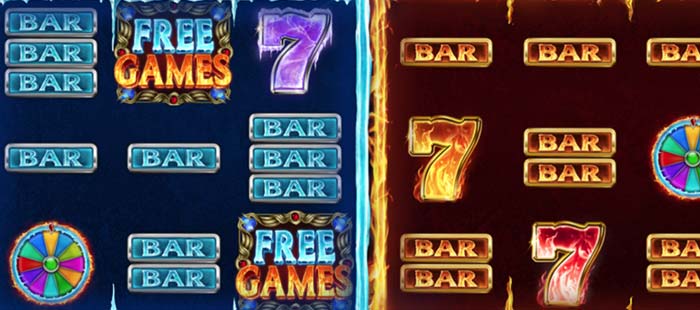 Mix Fire and Ice in the Icy Hot Multi-Game Slot
Let's delve into the frozen depths of Icy Hot Multi-Game and discover the captivating symbols and thrilling features that await you.

As you enter the Icy Hot Multi-Game world, you'll encounter side-by-side fire-and-ice gameboards brimming with unique symbols. The reels are adorned with various elements, including frosty snowflakes, blazing flames, icy diamonds, fiery sevens, and much more. These symbols perfectly capture the essence of the game's explosive energy and keep you engaged with every spin.

Now, let's get down to business and learn how to play this exhilarating game. Icy Hot Multi-Game features ten fixed paylines across its two gameboards. Set your desired bet amount using the intuitive controls to start your icy-hot adventure. Once you're ready, hit the spin button, and watch as the reels come to life.
Fire up the Icy Hot Multi-Game Slot Features
One of the standout features of Icy Hot Multi-Game Slot is the Free Games round. If you're lucky enough to land three Scatter symbols on a single gameboard, you'll trigger 12 Free Games. But wait, it gets even better! If you manage to land a total of six Scatters on either gameboard, you'll unlock a whopping 24 Free Games. These Free Games give you ample opportunities to accumulate big wins and keep the excitement flowing.

Keep your eyes peeled for the Wild symbols as well. Stack three on a single gameboard, and the Transferring Wilds feature will be activated. This feature duplicates the stacked Wilds on the opposite gameboard, boosting your chances of hitting a significant payout. An explosive combination of fire and ice can send your winnings soaring.

Feeling extra lucky? Look out for the three Bonus Wheel symbols on a single gameboard. This will grant you access to the exciting Bonus Wheel feature. Spin the Wheel and hold your breath as it comes to a halt. You could be rewarded with Instant Prizes of up to 100 times your bet, Extra Spins to extend the excitement or even the coveted Jackpot! This feature adds an extra layer of anticipation and keeps the adrenaline pumping throughout your gameplay.

In conclusion, Icy Hot Multi-Game is a slot game that successfully merges fire and ice opposing forces, creating an explosive and thrilling gaming experience. With its unique symbols, engaging gameplay, and exciting features, this slot will entertain you for hours. So, head over to Slotastic and double up on the fun with Icy Hot Multi-Game. It's time to ignite cold hard cash and prizes like never before!
PLAY NOW