Saddle up and get ready for a rowdy and high-stakes adventure with the Jackpot Saloon Slot, an online slot sensation that promises fun, fortune, and plenty of thrills at Slotastic Online Casino! This 5X3 game is loaded with exciting features that will have you on the edge of your seat, so let's dive right in and see what this wild ride has in store.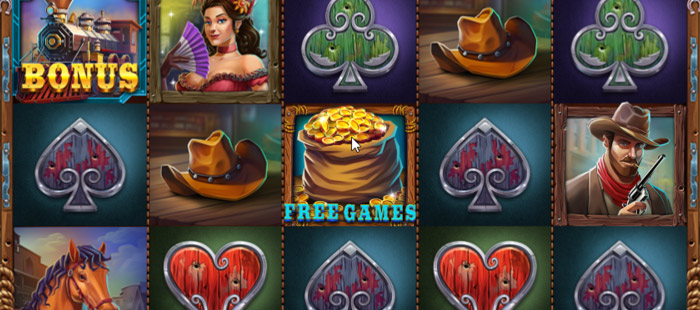 Explore the Wild West in the Jackpot Saloon Slot
As you step foot into the Jackpot Saloon Slot, you'll encounter a lively array of symbols that capture the essence of the Wild West. Among them, the stars hold the most allure as they are on your most-wanted list for big wins. Keep your eyes peeled for these Star symbols because collecting 5 on any reel will unlock the highly sought-after Free Games feature. During these Free Games, payline wins are multiplied by a thrilling 3x, increasing your chances of striking gold in the desert.

But that's not all - while you're engrossed in the Free Games, be sure to keep a sharp lookout for Sheriff's Badges! If you manage to round up 5 Sheriff's Badges on a reel, you'll instantly win the corresponding Jackpot. The Wild West may be a dangerous place, but it's also the land of incredible opportunities, and Jackpot Saloon proves it!

Playing Jackpot Saloon is as easy as riding a horse in the prairie. The first step is to set your bet amount, so decide how much you're willing to wager, and then simply hit the spin button. The reels will start rolling, and you'll be eagerly waiting for winning combinations to land.

The game boasts 25 paylines, which means there are 25 different ways you can win with each spin. To secure a win, you'll need to land matching symbols on one of these active paylines, starting from the leftmost reel and moving towards the right. The more winning combinations you land, the more you stand to win, and with the exciting features in Jackpot Saloon, the potential for big wins is abundant!
Jackpot Saloon Slot Features
Jackpot Saloon isn't just about the regular spins - it's packed with captivating features that will keep your adrenaline pumping. The Pick Bonus feature, triggered by 3 Bonus Scatters, takes the excitement to a whole new level. When you activate this feature, the anticipation builds up as you have the chance to reveal hidden treasures.

Will you uncover more Stars to trigger Free Games with incredible 3x multipliers? Perhaps you'll find Multipliers that can boost your winnings to incredible heights. But beware, as there's also the explosive Dynamite symbol lurking in the mix. If you unveil Dynamite, the feature ends with a bang, and you'll return to the regular game. It's a game of chance, but that's what makes it so thrilling - the potential for immense rewards is always within reach!
PLAY NOW