⚠️ This slot is only available on the Slotastic download casino software for PC.

There's a loud screaming noise coming from inside the Shark School slot, but don't let that scare you off there's plenty of fun waiting inside! Fill out your application and get ready to enroll at the Shark School - the scarily-good 5-reel slot from Realtime Gaming at Slotastic.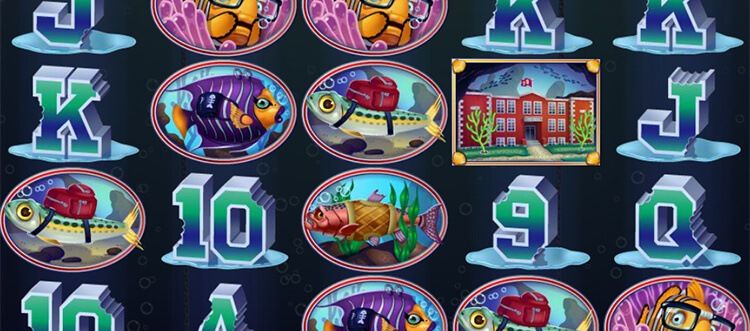 WHICH CLIQUE WILL YOU JOIN IN THE SHARK SCHOOL SLOT?
Just like any other high school, you'll find the usual school cliques within the Shark School. We'll pre-warn you, keep clear of the Jocks, the Great Whites and Hammerheads don't take too kindly to anyone smaller than them, it's best to walk the other way in the corridor.

What are you waiting for? Dust off your letterman jacket, choose your high school clique and prepare for hours of endless Shark School fun!
DON'T EAT THE TEACHER!
The Shark School slot is everything you need to keep you on the edge of your seat and the Swim Fishy, Swim Feature and Don't Eat The Teacher Feature is the icing on the cake.
During the Swim Fishy, Swim Feature you'll play the role of a helpless clown fish trying to make a great escape from the hungry jock. You'll get a 3 space head start but it'll take more than that to trick this tough guy. If you reveal a fish on reel 3 this will increase the distance between you and a hungry set of teeth, but a shark on reel 3 and the hungry shark will move 1 space closer to you. The free games will last until the poor little clown fish is eaten, or escapes after 25 games. If you manage to escape the hungry shark, then a bonus prize is awarded of 200x your bet.
The Don't Eat The Teacher Feature triggers free games, with prizes starting at 2x your bet. This time you'll take on the role as the defenseless teacher, trying to hold his own against the nerdy shark. If you can survive this thrilling round for 25 free games, you are awarded a bonus of 100x your bet.
PLAY NOW